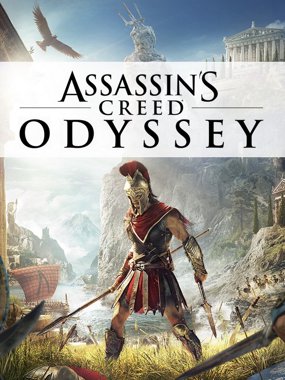 Assassin's Creed Odyssey system requirements
Assassin's Creed Odyssey System Requirements (minimum)
CPU: AMD FX 6300 @ 3.8 GHz, Ryzen 3 – 1200, Intel Core i5 2400 @ 3.1 GHz
CPU SPEED: Info
RAM: 8 GB
OS: Windows 7 SP1, Windows 8.1, Windows 10 (64-bit versions only)
VIDEO CARD: AMD Radeon R9 285 or NVIDIA GeForce GTX 660 (2GB VRAM with Shader Model 5.0)
PIXEL SHADERS: 5.0
VERTEX SHADERS: 5.0
SOUND CARD: Yes
FREE DISK SPACE: 46GB available hard drive space
DEDICATED VIDEO RAM: 2048 MB
Assassin's Creed Odyssey Recommended Requirements
CPU: AMD FX-8350 @ 4.0 GHz, Ryzen 5 - 1400, Intel Core i7-3770 @ 3.5 GHz
CPU SPEED: Info
RAM: 8 GB
OS: Windows 7 SP1, Windows 8.1, Windows 10 (64-bit versions only)
VIDEO CARD: AMD Radeon R9 290 or NVIDIA GeForce GTX 970 (4GB VRAM or more with Shader Model 5.0) or better
PIXEL SHADERS: 5.0
VERTEX SHADERS: 5.0
SOUND CARD: Yes
FREE DISK SPACE: 46 GB available hard drive space
DEDICATED VIDEO RAM: 4096 MB
Assassins Creed Odyssey is an another part of popular series of action games that combines Adventure with Action and RPG. Here you have to go to the bright world and cope with all the tests that it has prepared for you.
The game takes you to the territory of Ancient Greece, where the main actions will take place. You will team up with the Spartans and will go against the crowds of rivals, gradually exterminating them with the help of your forces.
The game is based on the mythology of Odyssey, where great heroes went on a long and very dangerous journey, gradually fighting monsters, visiting the gods and destroying mystical creatures.
The game world will be open for your conquest if your system satisfies Assassins Creed Odyssey minimum requirements, like if you have the processor similar to AMD FX-6300(3800Hz)/ Ryzen 3-1200/ Intelcore™ i-5 2400 @ 3.1 GHz level and above. As for the videocard you have to equip Radeon R9 285 model or GeForce GTX 660 with 2 gigabytes of videomemory to try to challenge the mythical creatures.
Thorough research is what you need to do first of all in order to provide yourself with the necessary items and valuable resources. To unleash the potential of the graphic part of the game, you have to get the cpu like FX-8350 or Core i7 of 37xx family model with 3.5 GHz in conjunction with an AMD Radeon® R9 290 or Nvidia brand GeForce GTX 970 using at least 8 GB of RAM. Such undemanding Assassins Creed Odyssey system requirements make triple-A project affordable for playing.
The combat system was also improved, which again will delight its fans with a variety of weapons and equipment for the main character. The benefits also became many times more. You will conduct most of the battles at sea, so be prepared to take control of powerful and equipped ships and flotillas.

Infographics of Assassin's Creed Odyssey requirements
players can play Assassin's Creed Odyssey
based on 4 321 user PC configurations
+ add yours
47.9% - The percentage of players who can play Assassin's Creed Odyssey
52.1% - Computer configuration fails system requirements
19.8%
will play with comfortable graphic settings
19.8% - The percentage of players whose computer configuration meets the recommended requirements and allows them to run Assassin's Creed Odyssey with comfortable graphic settings
80.2% - The percentage of players whose PC configuration does not satisfy the recommended system requirements of Assassin's Creed Odyssey
28.1%
will play only on lowest graphic settings
28.1% - The percentage of players who can run Assassin's Creed Odyssey only on the lowest video graphic settings
71.9% - The percentage of players whose PC configuration does not allow to play Assassin's Creed Odyssey
32.3%
more accessible than other games
32.3% - The number of games is even more demanding than Assassin's Creed Odyssey, which makes it more accessible in comparison with other
67.7% - Games whose requirements are not as tough as in Assassin's Creed Odyssey

Can I run Assassin's Creed Odyssey on my pc
Select your hardware components to find out how the game will run on your PC
CPU
minimum:
AMD FX-6300 Six-Core
Intel Core i5-2400 @ 3.10GHz
AMD Ryzen 3 1200
recommended:
AMD Ryzen 5 1400
Intel Core i7-3770 @ 3.40GHz
Video Card
minimum:
Radeon R9 285 / 380
GeForce GTX 660
recommended:
GeForce GTX 970
Radeon R9 290 / 390
RAM
minimum:
6 Gb
recommended:
8 Gb
Will not run
Will run but most likely will be not playable
Minimum to play the game
Comfortable gameplay
Assassin's Creed Odyssey players also watching

Games with the same requirements as Assassin's Creed Odyssey
Same system requirements
Games with similar system requirements (+ 5% to requirements)
These games have similar system requirements, if you have played any of them, you can estimate the computer requirements and see if your PC will run Assassin's Creed Odyssey